Why am I seeing the queuing page?
If you are seeing a busy page a popular event has gone on sale. Please stay in the queue and do not refresh the browser. Other fans are transacting right now. You will be redirected when a new purchase session opens.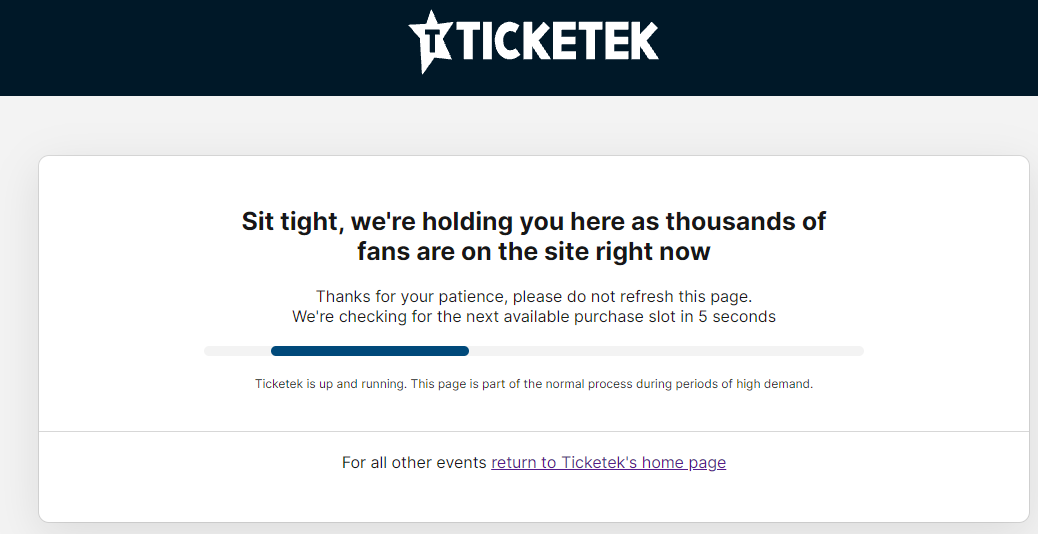 Should I open the Ticketek site on multiple devices or tabs?
To help speed up your sale process we do not recommend having multiple browsers/windows/tabs open or attempting to log in via multiple devices.
When should I open and log on to the Ticketek website?
During a popular event, there is a time limit on the pages (not including the holding page) If you are on the site before the on-sale you may find yourself kicked off when it's crucial.
Why is there a ticket limit?
The promoter may request a maximum number of tickets able to be purchased placed on an event to make sure everyone gets a fair chance to buy tickets.
If you exceed the stated ticket limit, you may have any or all of your orders and tickets cancelled without notice by Ticketek at its discretion.
Depending on the limit conditions this may include orders associated with the same name, e-mail address, billing address, credit card number or other information. Ticket limits apply to ensure fair access to tickets for fans, and as a measure to minimise ticket scalping.
You can check our Terms and Conditions here. Ticket limits will change and vary per event.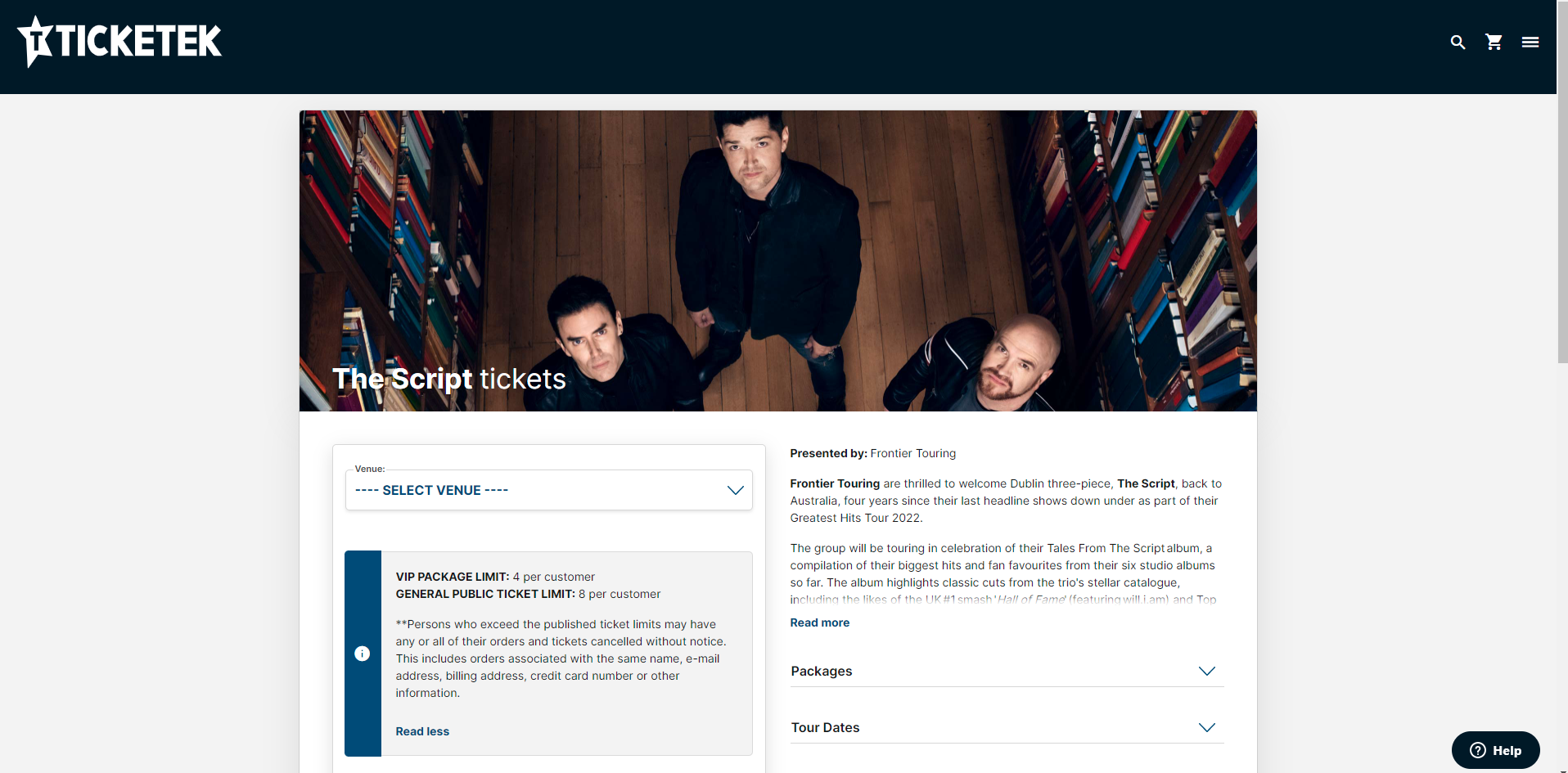 Why is there a time limit when I buy tickets?
For popular events, a time limit is placed on each page as you move through. This time limit may vary depending on the page you are on and the information required.
The time limit is displayed on the page for you. If you exceed the time limit the tickets you are holding will be released and someone else can pick those up.
To make the process quicker, sign up to Ticketek prior to the sale and register your billing information in your My Ticketek account.
Why do tickets sell out so quickly for popular events?
When a popular event goes on sale there are thousands of customers attempting to purchase tickets at the same time.
Once a ticket is held by a customer it will appear as unavailable for anyone else to purchase. The website can handle thousands of transactions so often within a very short space of time the full allocation of tickets may be taken by customers. If 1000's of fans are concurrently buying 6 tickets each, 6,000 tickets can be sold in a matter of minutes even seconds.
We encourage customers to keep trying after the first few minutes of a popular on-sale, because if customers do not complete their transactions, the tickets in their basket may be returned for sale for someone else to grab.
The promoter at their discretion may release more tickets, but we can never guarantee this will happen.
The event could have had a pre-sale prior to the general public reducing the number of tickets available for purchase during the general public sale.
Why are more or better tickets sometimes available after I have made my purchase?
Often people leave without buying tickets and anything in their basket will eventually be released back into the mix. A venue and or promoter may release more tickets.
What are the age restrictions for my event?
For events where the promoter has advised us regarding age restrictions or recommendations, there will be information listed on the online event page.
As per any live event, Ticketek is not always able to guarantee the content. It is up to the discretion of the parent/guardian to check if the event is suitable to attend.
We recommend familiarising yourself with the artist and their material to assist with your decision.
The promoter and venue may have additional information listed on their websites.
Why is there a service and handling fee?
The service and handling fee covers the end-to-end service delivery, from the time of purchase through to staffing at events, technology and support.
The fee is per transaction so you only pay one fee regardless of how many tickets you purchase in the transaction.
This may vary slightly depending on which delivery method you choose.
The fee will be made clear throughout the purchase and on the final payment page.
What does General Admission mean?
General Admission refers to seating or standing areas that are not assigned or reserved, and are occupied on a first-come, first-served basis. When purchasing tickets for a General Admission event, you may be quoted section, row, and seat numbers, however, these are for inventory purposes only and do not reflect any actual seating location.
What if I haven't received my tickets?
For some events, ticket delivery and collection may be delayed at the request of the promoter or venue.
Check our Ticket Delivery Live Updates for any possible delays.
For some events, tickets may not be released until 24-48hrs prior to your event date. If your tickets do not arrive see the box office at the venue for assistance.
How do I collect my tickets?
If you selected venue/prepaid collection you can collect your tickets prior to your event day at any Ticketek agency or at the box office on the day.
Check the delivery options and conditions of your purchase as some ticket types may require you to collect at the venue only (VIP, packages etc)
Check our Ticket Delivery Live Updates for any possible delays.
Only the account or cardholder may collect tickets, bring along your photo id and the confirmation/account number to pick up your tickets.
How do I buy tickets to multiple events at the same time?
To purchase more than one set of tickets to multiple events, click on the "Add more Tickets" button when on the payment page.
You will then be able to add more tickets to your basket and pay for all tickets at once.
In some cases, you will only be able to purchase one set of tickets to a popular event to ensure equitable distribution of tickets to the general public. Remember to check your ticket details carefully and that you have the right amount of tickets in your basket before submitting payment.
Will more shows be added?
Additional shows and performances may be added at the discretion of the promoter.
As soon as this is confirmed to us by the promoter we will update our information.
We recommend keeping an eye out on the artist, promoter and our social media channels as information may be listed there first.