As an agent for venues and promoters, Ticketek facilitates the sale of accessible seating for where Ticketek is the authorised ticketing provider. 
Ticketek acts under instruction from venues and promoters who allocate the number and types of accessible seats by event and venue. 
Accessible seating is reserved solely for fans and companions who require it. 
Venues and promoters allocate seats at their events to cater to:
Wheelchair seating
Companion card holders
Seating with limited steps
Vision and hearing impairments; and
other accessibility requirements
Ticketek has a number of channels for patrons to book tickets or make an enquiry. If you require any further information please get in touch and we will be able to assist you.
Enquiry and Booking Channels
Submit a request or pre-register* for an event: Fill out the Accessible Seating booking form and we will be in contact.
Live chat: Connect, enquire and book via chat. *Monday to Friday 9am - 5pm *may not be available during Holiday periods
To chat with us click on the Help icon in the lower right hand corner 

Ask a question and if you need further assistance you can click on the Live Chat button which will put you in contact with a Chat agent.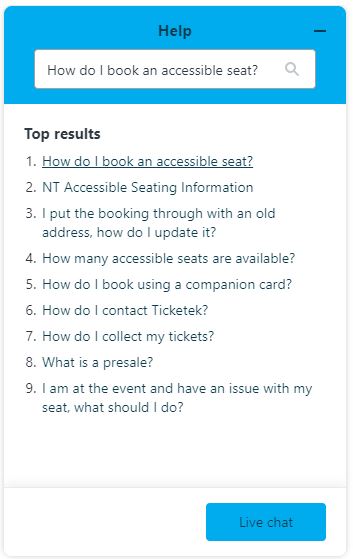 Phone: Call 1300 665 915 Ticketek's Accessible Seating booking line if you require special access, wheelchair or companion card seating. Monday to Sunday 9am - 5:30pm  & public holidays 9am - 5pm. (AEST)
 *Pre-registering for an event does not guarantee you tickets however will put you on a waitlist.
Contact Information
Ticketek does not provide accessible seating for all venues, for more information on venues in your state please see below.
Updates and Events
Popular events will sell out quickly, we will endeavour to provide updates here as soon as we can.